About the Club
The Wakefield RISC OS Computer Club is a user group for those with computers running RISC OS, based in Wakefield, West Yorkshire.
The club meets most months to allow its members to meet other like-minded individuals and discover more about the platform. We publish a newsletter once a month which is sent to all members, and run an email discussion forum to help us all keep in touch.
This site contains information about the club, our activities and about the RISC OS operating system itself.
A brief history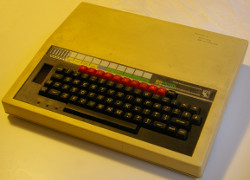 The inaugural meeting of what became the Wakefield BBC Micro User Group took place in April 1983 at the council-owned Holmfield House off Denby Dale Road, (now the Holmfield Arms), and was attended by 17 people. Several of the founder members were radio amateurs, who by the very nature of their hobby were already in touch with one another. The rest were attracted by a Free Ad placed in the local paper. A 'tips sheet' was handed out at the first meeting, and this developed into the newsletter, which acquired the name "Awake" in January 1994, and was renamed "The WROCC" on our 20th anniversary in April 2003.
The original committee comprised just four members with no particular titles, one acting as de facto spokesman. Although the group adopted a simple constitution at a meeting in October 1983, (effectively the group's first AGM), the committee posts were not defined until a more formal constitution was drawn up in April 1996 to allow for possible affiliation to the West Yorkshire Sports & Social Club, about which more in a moment.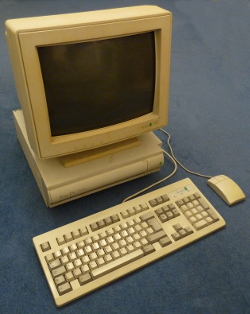 The group met monthly at Holmfield House from April 1983 until January 1992, when closure by Wakefield MDC caused us to move to our present home, the WYS&SC at Sandal. The name was changed to Wakefield Acorn Computer Group in October 1991, in order to reflect more accurately the range of Acorn machines in use by members. In January 2002, in recognition of the breakup of Acorn itself and the fragmentation of the hardware and OS development across a number of different companies, the name was changed to its present one, The Wakefield RISC OS Computer Club.
We held our first Wakefield Acorn Computer Show in May 1996, and in later years it was renamed the Wakefield RISC OS Computer Show for obvious reasons. This first took place in the Cedar Court Hotel next to junction 39 of the M1, and the rather basic shell stands were all made for us by a carpenter. We didn't really appreciate how much work we were taking on, but that's probably just as well, or it might not have happened at all. The following year we moved the show to larger premises at the Thornes Park Athletics Stadium on Horbury Road, and greatly expanded the scale of the event. In 2007 we moved to the Frobisher Suite at Stanley Ferry as a one-off, and in our 25th anniversary year of 2008 it was fitting that we returned to where it all started – the Cedar Court Hotel.
No-one present at that first meeting in 1983 could have had any idea that the group would still be going strong nearly 30 years later. In those days when computers and peripherals cost a small fortune, 32k was a lot of RAM, hardly anyone had hard drives, and if you wanted any decent software you had to type it in from a magazine listing or write it yourself. You had to be seriously dedicated and have a rather deep pocket to play at home computing. How things have changed!
Rick Sterry (founder member) Jan 2008