The WROCC Newsletter
WROCC members receive a copy of our monthly newsletter, The WROCC. Produced in A5 format, it contains articles on RISC OS and its software, hints and tips, information about the subjects covered in our meetings, and much more.
Copies are produced in PDF format: members can download them from the this page, or have copies emailed to their inbox as soon as they are published. In addition to a 'one page per A5 sheet' version, a 'two-up on A4' version of each issue is available to help those who prefer to print their copies out for reading.
If you're not a member but would like to see what you're missing, a selection of older issues are free to download further down the page.
Indexes
An index of the articles found between issues 6.1 and 40.12 of the newsletter has been produced by John Arthur and Kev Smith, and can be downloaded here as a PDF document. Volume 6 coincided with the release of RISC OS, and prior to that the newsletter was mainly short hints and tips.

Public Download

Public Download

Public Download
The Wakefield Back Catalogue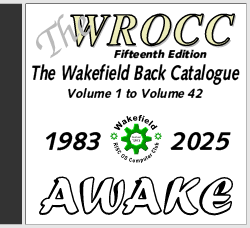 Relaunched following the completion of Volume 40 of The WROCC in April 2023, the thirteenth edition of The Wakefield Back Catalogue contains PDF copies of the Club's monthly newsletters going from The WROCC and Awake right back to the very first "hints & tips" sheet handed out at the April 1983 meeting.
The new compilation contains around 440 issues and is available as a download in these more 'virtual' times. It costs £7.50 for non-members, whilst members can buy it for the discounted price of £5.00. To order your copies, complete the Order Form and send it back to us. Contact us if you have any questions.
The WROCC Guide to Networking
Starting in late 2009, the Club has been publishing a series of articles on networking in the newsletter. Two years on, we've turned them into a stand-alone guide to the subject of networking RISC OS systems.
Each part of the guide is available in a 20 page A5 printed booklet for £3.00 including P&P, or in PDF form for £1.50. To order your copies, complete the Order Form and send it back to us. Contact us if you have any questions.
Free samples
Here are some old back-issues of The WROCC, which can be downloaded in PDF format to give an idea of what the newsletter is about. More recent issues are available to members at the top of the page.
The files can be viewed on RISC OS using PDF, which is maintained by Chris Gransden: recent versions (3.00.1.21 or later is required to view the newsletter correctly) can be downloaded for free from www.riscos.info/index.php/PDF.
Contributing
If you would like to contribute to The WROCC, you can find details how to do it – including the file formats that we can accept – in our guide to Contributing to The WROCC. We accept items for publication from both members and non-members, and all are eligible for our annual Contributors' Award.