Meetings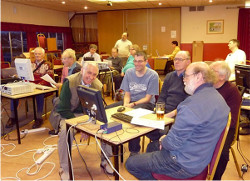 Wakefield RISC OS Computer Club meets on the first Wednesday of every other month: February, April, June, August, October and December. Our meetings usually consist of a talk or demonstration, with plenty of time for informal discussions and trips to the bar before and after.
Recent meetings have included visits from major RISC OS hardware, software and operating system developers, along with demonstrations of specific pieces of software by experienced users. In addition, we have covered a wide range of other subjects including digital photography, hardware upgrades, networking and problem solving. More information about the topics covered in recent meetings can be found further down the page, and details of future meetings can be found below.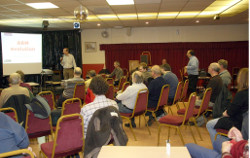 Meetings start at 7.45pm, at the West Yorkshire Sports and Social Club in Wakefield. Doors open at 7.15pm, and the scheduled part of the evening is generally complete by about 10pm. See the directions to the venue for details of how to find us.
Visitors are always welcome to attend our meetings (with the exception of the AGM). There is a small fee on the door for non-members – see the Join Us page for details.
Forthcoming meetings
The following meetings are planned for the near future (note that presentations may be re-scheduled due to events outside of our control).
COVID-19 update
During the COVID-19 (coronavirus) pandemic, WROCC is following UK Government guidance and this is having an effect on our activities. Our meetings have moved online using Zoom, and we advise members and visitors to keep an eye on the website, newsletter and announcements through email or the usual RISC OS forums for updates.
To Be Arranged
5 October 2022
Recent meetings
WROCC's meetings cover a wide range of topics relating to RISC OS and computing more generally. Here are some of the events from recent months; for a longer list including videos and links to more detailed reports, see our past meetings page.
August 2022
Tony Bartram of AMCOG Games visited us virtually to update us on his recent releases and give us a sneak preview of some of the developments that are currently in progress.
You can find links to the meeting on YouTube via its page.
July 2022
Chris Hughes took a look at Sine Nomine's Impact database and its supplementary programs, and showed how he uses them to assist with managing the Club's membership records. He showed how to create a database and link multiple databases together, and looked at the things which can be done using Impact's script facilities.
You can find links to the meeting on YouTube via its page.
June 2022
Stefan Fröhling of the Cloverleaf project visited us to demonstrate the CLFiler application, which provides an alternative way to navigate discs on the desktop.
You can find links to the meeting on YouTube via its page.
May 2022
Chris Dewhurst visited us virtually to give us a brief history of Drag 'n Drop magazine, and his involvement with RISC OS, before introducing his new book: The Application Tutorial and Listings Book.
You can find links to the meeting on YouTube via its page.
April 2022
As an experiment in producing a 'hybrid' meeting from the Sports and Social Club, Peter Richmond and Ruth Gunstone talked us through some of the equipment in use whilst taking a retrospective look back at the Microdigital Omega.
You can find links to the meeting on YouTube via its page.