Meetings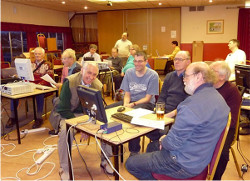 Wakefield RISC OS Computer Club meets on the first Wednesday of most months: at least in February, April, June, August, October and December, and often in several of the intervening months as well. Our meetings usually consist of a talk or demonstration, with plenty of time for informal discussions before and after.
Recent meetings have included presentations from major RISC OS hardware, software and operating system developers, along with demonstrations of specific pieces of software by experienced users. In addition, we have covered a wide range of other subjects including digital photography, hardware upgrades, networking and problem solving. More information about the topics covered in recent meetings can be found further down the page, and details of future meetings can be found below.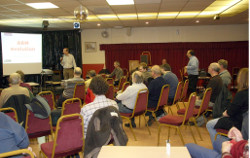 Meetings take place online using the Zoom platform. They start at 7.45pm, and the scheduled part of the evening is generally complete by about 10pm.
Visitors are always welcome to attend our meetings (with the exception of the AGM and EGMs) – contact us for details, or see the Join Us page for information about membership.
Forthcoming meetings
The following meetings are planned for the near future (note that presentations may be re-scheduled due to events outside of our control).
RISCOSbits
13 December 2023
Andy Marks will be telling us about the latest developments from RISCOSbits, including a couple of new machines that will hopefully have been launched at the MUG Xmas Market event just a few days previously.
Plus, he will be able to give some details on RISCOSbits's brand new scheme for RISC OS, also due to be launched at the Market.
In keeping with the festive spirit, Andy will also run an online quiz at the end of the talk, with a real prize for the winner!
Please note that this is the SECOND WEDNESDAY of the month.
Sine Nomine Software
10 January 2024
Further details nearer the time.
Please note that this is the SECOND WEDNESDAY of the month.
ANNUAL GENERAL MEETING
7 February 2024
Please note that this is a members-only event.
Photodesk
6 March 2024
Chris Terran will be talking about Photodesk, the RISC OS bitmap editor application.
Recent meetings
WROCC's meetings cover a wide range of topics relating to RISC OS and computing more generally. Here are some of the events from recent months; for a longer list including videos and links to more detailed reports, see our past meetings page.
November 2023
Andrew Rawnsley made another return visit to the Club at the end of the year, to bring us up to date on the latest news from R-Comp and RISC OS Developments.
You can find links to the meeting on YouTube via its page.
October 2023
Following talks in June and July about using RISC OS alongside MacOS and Windows, Steve completed the trilogy by looking at how he uses RISC OS alongside Linux. He showed us how he uses NFS to share files between the systems, the talked about some of the practical ways that the setup can be used – from graphics and DTP through to software development.
You can find links to the meeting on YouTube via its page.
September 2023
Mark talked about the work that he's been doing analysing Elite, Revs and Aviator over the last few years. He looked at some of the main features of the games and explained exactly how they were implemented, from the original BBC Micro and Electron versions to the enhanced versions for the 6502 Second Processor and BBC Master, as well as versions on other platforms such as the Apple II, Commodore 64 and NES.
You can find links to the meeting on YouTube via its page.
August 2023
Andy demonstrated the current range of hardware from RISCOSbits, including the FAST systems based around the Pi Compute Module 4. He then looked into the future, with projects including the multi-platform Chimera and ECOS along with 'MultiPi FAST'.
You can find links to the meeting on YouTube via its page.
July 2023
Following on from our June meeting, Andrew showed us how he gets RISC OS and Windows systems to co-exist on a daily basis and uses them both productively.
You can find links to the meeting on YouTube via its page.