Meeting: A Visit from Mike Cook
April 2009
Life Member Mike Cook visited us to talk about how he has used the Arduino processor board to bring many of his old Body Building and Run The RISC hardware projects up to date and to a new audience. He demonstrated his "Mini Monome" with its colourful and interactive grid of illuminated buttons, showed a video of his visit to the first Newcastle Maker Faire earlier in the year in order to exhibit the projects, and finished with some live music performed on his latest creation: the "Arduinocaster".
Report by Steve Fryatt, pictures by Colin Sutton
April's meeting saw a visit from regular speaker and WROCC life member Mike Cook. Well-known for the 'Body Building' and 'Run the RISC' series in The Micro User and Acorn User, which encouraged readers to attach home-made peripherals to their machines, these days Mike is experimenting with other ways to interface hardware and computers together.
Remote control
The last time that Mike visited us was at our 25th Anniversary meeting last year, when he talked about some of his early 'computers' and looked forward to where he thought the future lay for interfacing projects. He had finished by introducing a small circuit board called the Arduino, which contained an 8-bit processor, USB and serial interfaces, and a multitude of input/output connections. This time, he planned to talk us through a couple of projects using this device – but first he had a small piece of unfinished business from the previous meeting.
Along with an iBook, which he was using to control the various bits of hardware, Mike had brought a Nintendo Wii remote control and an iPod. The Wii remote can communicate via bluetooth, while the iPod (like the iPhone) can talk over a WiFi network, and Mike planned to show what could be done in the way of 'modifications' using a couple of example programs running on the iBook.
Sadly, the technology had other ideas, and both the Wii remote and the iPod steadfastly refused to find and connect to the iBook. After a number of failed attempts, Mike had to admit defeat – assuring us that both had been working flawlessly before he had left home.
Hardware interfacing
Moving on to the main part of the evening, Mike showed us an Arduino: this turned out to be a small printed circuit board, about the size of a pocket calculator, on which were mounted some chips, a few LEDs, and a number of different connectors. Fitted with an 8-bit Atmel processor, these small boards are a self-contained computer: they have everything they need to be able to run software and talk to the outside world, as well as being provided with USB so that they can communicate with, and be programmed by, a desktop or laptop machine.
Mike first found these devices a little over a year ago, and has since become a keen supporter. The design is 'open', so that along with buying them assembled and ready to use, full details can be found online – allowing those with the necessary tools and experience to build their own. Their size, and extensive interfacing capability, makes them ideal for use as building blocks in larger electronic projects.
Support for the Arduino is provided via a set of online forums, and Mike said that he had become a regular contributor under the name of 'Grumpy Mike' – his avatar, designed by his son, gives an idea of how he might look should he ever end up as a character in a South Park cartoon. He told us that he had been surprised to have been contacted recently by someone who said that they had got in touch because he was one of the top five contributors; on checking, he had found that he was indeed in second place on the forum by number of posts.
One of the first things that Mike did with the Arduino was to start transferring some of his old body-building projects across to the board: one example was the Sneak Thief game, which had attended a number of Acorn shows over the years. The process has been going so well that Mike has started creating a series of short videos describing the devices: going under the title of 'Grumpy Mike's Weekend Projects', several can be found on his YouTube channel.
The mini-monome
Mike's uses for the Arduino don't just stop with updating old projects from the BBC Micro days, however. He had brought with him a 'mini-monome' – a small box with a four by four grid of buttons on the top. The grid was built on top of an Arduino Diecimila board, and this was interfaced to his iBook via USB. Each of the buttons contained an RGB LED, and could be lit in any colour under the control of the computer.
The idea was based on the boxes produced for musicians by Monome – like the Arduino, these are built to an 'open' design so that anyone can create similar units. The main difference between his box and theirs, according to Mike, was that normal monomes had single-colour LEDs in an eight by eight grid: his design was therefore more colourful, although it did have fewer buttons. Assembling the box, then making the buttons press and light up had proved something of a challenge, and Mike showed us a video of the device while it was being assembled and then in use.
Pressing the buttons on the mini-monome would pass details back to the computer, which could use the information in whatever way it liked. By making the Arduino software on the iBook look like normal monome software, Mike's hardware could easily be interfaced with a wide range of utilities written by the monome community – in this way, he was able to show it acting as a simple music sequencer.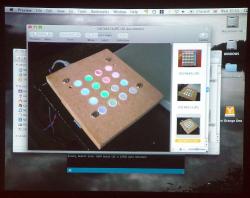 Newcastle's Maker Faire
Back in March, Mike attended the first UK Maker Faire as part of Newcastle's ScienceFest. The events are organised as a spin-off from O'Reilly's Maker magazine, and provide a showcase for technology hobbyists of all kinds. Mike had gone to represent the North of England Arduino Group – which at the time consisted of himself and one other person.
The event had showcased a wide range of different items, ranging from simple mechanical designs through to complex computer-controlled technology. Mike had made a video of the event, which he showed us: the highlights had to be the life-size iron horse and the bell-ringing baby (both of which are also in the YouTube videos linked to from the club website).
Mike had taken the mini-monome with him, along with items which may well have been more familiar to those who attended the old Acorn shows – including the MIDI Glockenspiel and the Sound Square. Being in a tent, Mike said that the sunlight had played havoc with the IR sensors on the square, which had made it necessary to cover it with a black cloth for most of the day.
The Arduinocaster
To round off the evening, Mike had a surprise for us. His most recent project was also based around an Arduino board, and made good use of its interfacing abilities. In fact, it was a complete MIDI instrument, housed in a guitar-like case and designed to be played in a similar way. When asked for a name, Mike's son had christened it the 'Arduinocaster' – so far, at least, Fender's lawyers had not been in touch.
What seemed to have surprised and pleased Mike most about the project was the speed at which word about it spread on the internet. Starting with a made-up word that returned no Google hits, Mike uploaded a YouTube video and mentioned it on the Arduino forums. Within days, the search engine was returning pages and pages of hits for "Arduinocaster" – some of which were somewhat bizarre.
To prove that the instrument worked, Mike connected it to a MIDI box and treated us to a verse of 'The House of the Rising Sun'. Despite his modesty, the result was impressive – the Arduinocaster could give many other modern instruments a run for their money.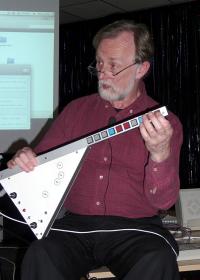 Meeting resources
There are more resources for this meeting if you are a WROCC member: log in to view them.